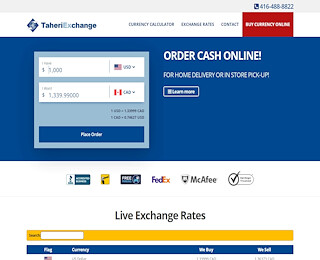 A currency exchange provider helps you exchange one currency for another. They are a service that has been around for centuries and they are still going strong.
There are many different types of currency exchangers out there, and it can be hard to find the right one. You want to make sure you are using a reputable company with a good reputation that has been around for a while.
Currency exchanges provide an important service in the global economy. They allow people to convert one type of currency into another and make it easier for them to travel, do business, and send money abroad.
There are different types of currency exchanges, including those that are online or at a bank, those that are at airports, and those that are at hotels or other tourist destinations. If you're looking for the best money exchange in Toronto, you've come to the right place. Taheri Exchange offers the best currency exchange rates in town, and you can also buy and sell your bitcoins quickly. In this article, we'll explain a bit about our services.
We offer the best currency exchange rates in Canada. We are also the best place to get a currency exchange in Toronto.
Taheri Exchange is the go-to place for anyone looking for a good forex trading broker, or a money exchanger in Toronto. We offer competitive rates and we are always happy to help you out with any of your money exchange needs.
We are a full-service currency exchange company that specializes in foreign exchange, bitcoin exchange, money transfer services, and international payments with over 25 years of experience.
Here at Taheri, we can provide for the diverse needs of clients all over the world. With 25 years of experience, we know how to give everyone what they want and need. We make it easy to exchange currency. Alongside this, we carry out transactions efficiently and effectively, helping you stay on top of things. We also have a wide variety of currencies and even bitcoin! We keep your safety as a top priority and we want you to stay informed about our decisions.
Moreover, our staff speaks English, Russian, Farsi, Turkish, Mandarin, Urdu & Punjabi.
The company started with the goal of providing foreign exchange services to people in Canada. But as time passed, it became clear that there was a need to expand our services. That is why Taheri Exchange expanded its business and also offers bitcoin exchange and wire transfers.
The company's success can be attributed to their customer-oriented approach, which we value above anything else. This means that Taheri Exchange is always looking for ways to improve their service and offer better rates than any other currency exchanger on the market.
The Benefits of Using Taheri Currency Exchanging Services in Toronto
Choosing the right foreign exchange services in Toronto is not an easy task. There are many companies that offer this service and each of them has its own pros and cons.
However, you can rest assured that with its 25 years of experience, Taheri Currency Exchange offers the best rates in Toronto and is a great choice for anyone looking to exchange their money. Just call us today at 416-488-8822!