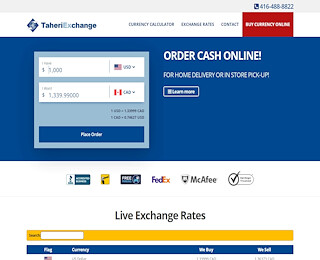 Toronto is one of the most cosmopolitan cities in the world. It has a population of over 2.8 million people and is home to many immigrants from all over the world. That's why it's no surprise that Toronto has a diverse and multicultural economy, which makes it an ideal destination for tourists.
The money in Canada is called Canadian dollars (CAD) and each CAD is worth 100 cents. The currency exchange rate can change from day to day, so it's important to stay up-to-date with the latest rates before you arrive in Toronto. This article will teach you what you need to know about exchanging money in Toronto so that your next trip there will be as smooth as possible!
If you are travelling to Toronto, it is important to exchange your foreign currency when you get to the country.
Exchanging your foreign currency in Toronto is important because it will provide you with the best rates and allow you to get the most value for your money. If you are travelling abroad, then it will allow you to avoid paying high fees when converting your money back into Canadian dollars.
One of the most important things to know when traveling abroad is how to exchange your money. It can be difficult and confusing at times, but it doesn't have to be. Whether you are traveling for business or pleasure, this guide will help you find out what you need to know about exchanging foreign currency in Toronto.
The best way to find the best foreign currency exchange rates in Toronto is to do some research online. There are many websites that offer currency exchange services and they have different rates.
Some of the factors that you should consider when finding a good forex trading broker are:
– The currency exchange rate offered by the broker,
– The fees charged by the broker, and
– The service provided by the broker.
Exchanging money is an important part of any international trip, and it's easy enough that anyone can do it! Plus, at Taheri Exchange, you will find the best rates in the city and unparalleled services thanks to our 25 years of experience. We can help you exchange over 40 currencies including bitcoin.
If you're looking for the best way to exchange money in Toronto, then you should know that Taheri Exchange is the solution. We are a foreign currency exchanger and we provide an excellent service to people who need to exchange their money.
Taheri Exchange is the best way to exchange money in Toronto because it provides an easy and secure way to get the best rates for exchanging foreign currencies.
Taheri Exchange has a wide variety of currency pairs available, which means that you can get the best rates for all your transactions.
It also offers a secure and efficient service with low fees and no minimums, which makes it the best option for foreign currency exchange in Toronto. Plus, our staff speaks many languages including English, Russian, Farsi, Turkish, Mandarin, Urdu & Punjabi.
If you want to know more about our services, give us a call at 416-488-8822. Consult our live exchange rates: https://taheriexchange.com/currency-exchange/